Websites, web pages and internet portals about Val Gardena and the Dolomites
In this section of our web directory you will find a list of websites containing information on the Val Gardena, South Tyrol and Dolomites.
Do you have a website that contains informations over the above listed arguments? Click here to send us a request and get listed in our Val Gardena directory.
A
B
C
D
E
F
G
H
I
J
K
L
M
N
O
P
Q
R
S
T
U
V
W
Webdirectory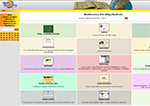 X
Y
Z